Reading Time:
1
minutes
Hi, this month the Makers of the Swiss Army knife, Victorinox, is launching a new product called Victorinox Tomo. It is the result of a beautiful collaboration between the Swiss brand and the Japanese design studio Abitax. We can really say that Swiss Precision meets Japanese Design for a cutting edge product. I have already made an article about it a few month ago, before the launch. You can find it here. There is more information about Mr Yamaguchi work and the collaboration. Now, here below you will find a video of the unboxing I made of the Victorinox Tomo. It gives you a good idea on how great this product is. You will like to collect them all!

According to Mr. Yamaguchi: "for Japanese people, Simple is beautiful"… check here an exclusive interview from the Designer:

Victorinox Tomo is definitely a beautiful product with a beautiful story. Visit the official mini-website to learn more about it and especially where can you find them:
http://victorinoxtomo.victorinox.com
LA
You can also check the unboxing video on my Youtube channel here: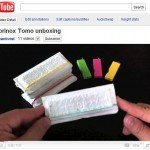 The following two tabs change content below.

LuxuryActivist is an international lifestyle webzine based in Switzerland. Get fresh news about luxury, arts, fashion, beauty, travel, high-tech and more. subscribe to our Happy friday luxury newsletter or follow us in social media.

Latest posts by LuxuryActivist (see all)