Reading Time:
7
minutes
The 2018 Cannes film festival is starting and we are already wondering which star will be revealed. Well, when we say revealed, we do not necessary mean "in a movie". There is a tradition at Cannes Film festival that happens every year now. No, it is not about the movies. It is about the fact that every year there is a super star revealing a part of her body that was not supposed to be revealed. Or not exactly. Or at least it should look like a "wardrobe fail". Until we spot out this year sexy oops! Please see here an interesting flashback. So, from here, do not scroll if you are not sure to see what follows…
Cannes 2018 – The Daring Guest…
It was the official presentation of the Russian film LETO and a guest (everybody is still wondering what is her name) just decided to walk the red carpet with a very daring dress… maybe too much. Scandal!
Cannes 2017 – Bella Hadid did it again
Bella Hadid is getting used to attend to Cannes Festival. Actually she is also used to show her panties. Not the best good taste but for sure it makes the buzz.
Cannes 2016 – Castriona Balfe, Amal Clooney and Bella Hadid… battle of panties
There is a lot of wind this year at Cannes. Climate change or just the sea line wind? For the launch of his new movie, Money Monster, George Clooney was very well  accompanied. Between Castriona Balfe and Amal Clooney, all panties were out! Bella Hadid hesitated on putting panties on or not. She decided not to decide. Outstanding. And the festival just started.
Cannes 2015 – Sophie Marceau again!

Some actresses are loyal to Cannes and a few of them are getting used to wardrobe malfunctions. Sophie Marceau gets the golden palm for it. Really again? Yes, oops she did it again. This time is not the top (see below) it is the bottom. While climbing the stairs in the red carpet, her dress opened a little too much. And there it is: the salmon-pinkish-skin-nude-panty.
Cannes 2014 – Nabila Benattia
In 2014, French starlette Nabila Benattia got a real wardrobe malfunction and something with her dress just went wrong. She became very famous in France because of reality show in TV. She is well known for her artificial XXL breasts and here she is completely aligned with this reputation.
Cannes 2013 – Eva Longoria
This year, it was to Eva Longoria to respect the oops! tradition at the red carpet from Cannes. Everything seemed perfectly under control et suddenly… the dress got stuck under her shoe. It would have been ok if there were not 125 photographers 5 meters away shooting in average 258 photos per second… problem of timing?
Cannes 2012 – Arta Dobroshi
When you are in Cannes festival for a movie under the category "Un certain regard", you are suppose to be a little less over-the-top and more the kind of low-profile film. When Arta Dobroshi appeared for the traditional Paperboy photo session, everything started very well but unfortunately ended up less well. When you are by the sea coast, you should be always careful with the wind.
Cannes 2011 – Diane Kruger
The problem with photographers is that sometimes they want to take pictures of you in many places not often simple. And in these cases, you cannot master the natural conditions or even the camera angle. That is what happened to Diane Kruger in Cannes 2 years ago. Should have been a very glamorous photo shooting and finally it was not the dedicated photographer who got the "best shot".
Cannes 2010 -Saïda Jawad
Saïda Jawad would not imagine the buzz she would create while sitting wisely in that couch for the official interview and photo session, back in 2010 during the Cannes Festival. Can you imagine her surprise? We must say that nobody told her and the photographers took advantage of the situation. Not that fair.
Cannes 2009 – Paris Hilton
Some years at the Cannes Film festival it is not the red carpet session that can be tricky. It can be just before or just after. In the official car for example. Here Paris Hilton forgot that big cars have big seats.
Cannes 2008 – Elsa Zylberstein
When Elsa Zylberstein took that dress to wear it, probably she thought she would look like a greek goddess. And it is true that the dress was like made for her. Something definetely wasmissing because suddenly either there was too much fabric or not enough of Elsa Zylberstein. Or both.
Cannes 2007 – Pamela Anderson
In 2007, Pamela Amderson got the buzz thanks to a tricky black top that was slightly transparent under the photographs spotlights. She is the legendary gorgeous "babe" from Baywatch with the glamorous silhouette.
Cannes 2006 – Marion Cotillard
Marion Cotillard is an amazing actress that year after year built her filmography as a true worldwide star. In 2006, she had an amazing couture dress that had highlighted her sexy silhouette. Perhaps a little too much? Ah ah!
Cannes 2005 – Sophie Marceau
Going back a while, everything was supposed to work out without any problems. The perfect dress, the perfect face, the perfect hair style… but also the not so perfect handle of the dress. We can say that Sophie Marceau has a good sense of humor. She is fair-play… What can one say any way.
Cannes 2004 – Alexandra Kerry
There is a fact at Cannes Film Festival, it is that there are loads of photographers. Most of them, or let's say all of them have powerful photo cameras with powerful flashes. These flashes can really get through a lot. This is something that Alexandra Kerry did not know in the evening of the premiere of Kill Bill at the 2004 Cannes Film Festival. Light can be a strong revealer.
Cannes 2003 – Virginie LeDoyen
Virginie Ledoyen seemed very young and fresh during the 2003 Cannes Film festival. She was 27 years old and her fairy dress played with transparency and lightness. She got what today we call a nip slip. Beautiful dress by the way.
Cannes 2002 – Gwyneth Paltrow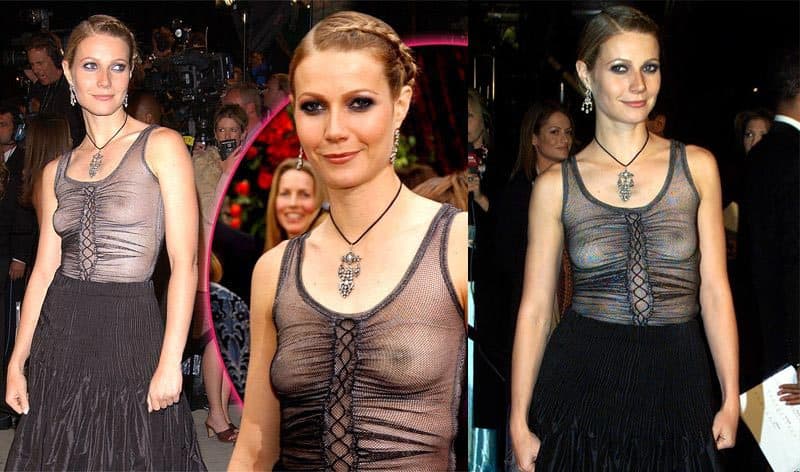 When Gwyneth Paltrow attended to the red carpet ceremony at the 2002 Cannes Film festival, she would never suspect that the photographers' flashes would reveal more than she would have imagined.
Cannes 2001 – Nicole Kidman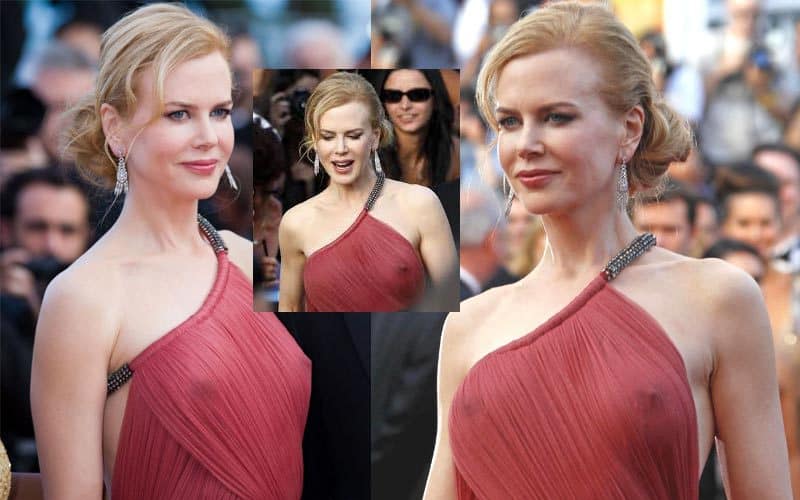 Ok, This one is quite discreet compared to what we see now in Cannes. Nicole Kidman had an amazing dress in which there was not much room for imagination. The very beautiful actress was victim of a "see-through" that made the joy of all paparazzi that day. It was the 2001 Cannes Film Festival.
Cannes 1955 – Brigitte Bardot
Cannes 1954 – Simone Silva
British actress Simone Silva posing topless with the American star Robert Mitchum during the Cannes film festival. Having been elected 'Miss Festival', Simone Silva was asked to leave the festival after her semi-nude pose which resulted in one photographer breaking his arm and another his leg in the rush for pictures!
As you can see this tradition is basically part of the foundation of the Cannes festival. Brigitte Bardot or Simone Silva revealed more than they should. All newsparpers of that time talked about it.
So when Cannes shows more than films, it happens in front of the cameras. Well, at least we would imagine that there is a plan "behind the scenes".
Info sourced at puretrend.com, oopsmagazine, ParisMatch, wikipedia, Blick, starmagazine. All content is copyrighted with no reproduction rights available. Images are for illustration purposes only. 
EnregistrerEnregistrer
EnregistrerEnregistrer
EnregistrerEnregistrer