Reading Time:
2
minutes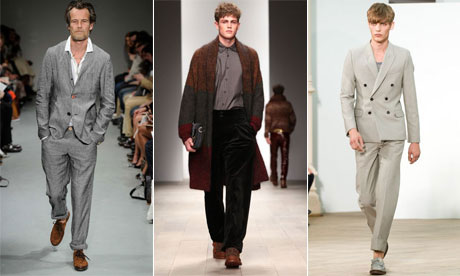 Best of British: designs by Oliver Spencer, James Long and Topman. Photograph: Tim Whitby/Samir HusseinTim Whitby/Samir HusseinTim Whitby/Samir Hussein/Oliver Spencer/Getty/Getty
Menswear klaxon! The British Fashion Council has today released the provisional schedule for the first ever dedicated menswear showcase – the London Collections. It's been the source of much excitement among certain members this parish, but really who doesn't love the idea of decent-looking men showing off classy, innovative and occasionally that-bit-too-boisterous clothes?
Menswear nerds should click here to see the schedule which runs from 14th to 17th June in full. We confess we are particularly excited by the thought of HRH Prince Charles 'doing a Boris' and opening the whole event. For starters, he has better suits.
Friday's action will be led by the Topman catwalk show which will no doubt feature clothes for fellas who like their music and have a FROW which may include at least one member of One Direction (we can but hope; come on Sir Phil make this happen). Tom Ford will host a dinner for dapper chaps that evening – cue handsome gallery incoming on this site.
By the weekend we will mostly be excited about Jonathan Saunders and Christopher Shannon showing their respectively brilliant collections. Sunday morning will see JW Anderson's knitwear-based expertise and Christopher Kane showcase his doubtless zeitgeist capturing menswear. British powerhouse Burberry will close the event with a suitably swank event hosted by Christopher Bailey. We'll be covering the Christopher-heavy event in full but please tell us below if there's anything you'd really like covered by team Guardian fashion and why.
See the article here –
Jonathan Saunders, Topman and Margaret Howell confirmed for first 'men's London fashion week'