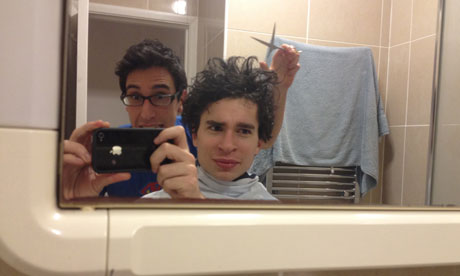 Tom prepares to trim his brother Patrick's curls. Photograph: Patrick Kingsley
The other day I was at the watercooler in the office when the deputy fashion editor swept past. "Nice haircut," she said. I swelled with pride. Not just the narcissistic kind – at last! Follical validation from a respected analyst of haute couture! – but fraternal pride, too. For this haircut was not just any haircut. It was a haircut by my brother.
For the past 12 months, Tom and I have cut each other's barnets. You may wonder why I'm sharing this information – we can't see what the fuss is either – but it seems to amaze enough people to demand some sort of demystification. So here goes.
Once a month, I pop round to Tom's flat, we watch The Apprentice, and then out come the kitchen scissors. One time I tried to watch The Apprentice during the haircut itself, but this ended badly. Tom is very dexterous but he needs direction, something I was unable to provide while watching Suralan and co. Facilities in the bathroom, or occasionally the kitchen, are limited. We have a small mirror, a towel, and a vacuum cleaner. "Would you like product in that?" is simply not a question we have the resources to ask.
The shebang all started when we were home last year for Easter. My curls were on the shaggy side, so Tom – always a pragmatist – whipped out the scissors and waved them at me. A tradition was born. From Tom's perspective, the arrangement saves him a bit of money. For my part, I get my hair cut by someone who does exactly what I say.
There have been a few bumps. Quite literally: I'm always leaving divots. In fact, in technical terms, I am a terrible hairdresser. I don't see this as critical – if your hair looks all right from a distance, who cares about a few bald spots? – but on occasion Tom has complained. One time it got so bad that he actually sacked me and employed a professional barber. It cut me deep – hoho! – but he soon came crawling back. He could take only so much chit-chat about where he went on holiday.
DIY haircut tips
▶ Go slow. I tend to hack away like the grim reaper in a plague year. But for best results, only trim a little bit at a time.
▶ Cut at an angle, rather than horizontally – and if you do make a divot, it'll be easier to cover up.
▶ Apply water for easier trimming. But hair shrinks slightly as it dries, so you'll need to cut more conservatively than you think.
▶ When the hair is the right length, reduce its weight by cutting almost vertically from the root. Don't close the scissors completely.
▶ If you do make a divot, don't shorten everything else to compensate. You'll make it worse.
Continue reading: