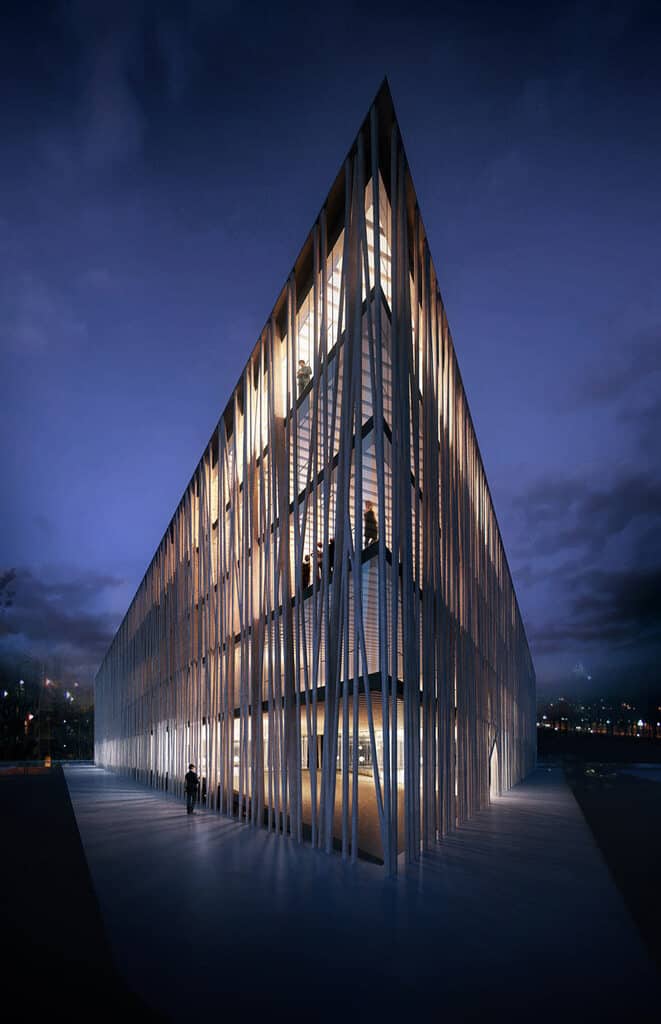 On October 8th 2019, the ceremony symbolically marking the completion of the structural work of the new site for CHANEL's Métiers d'art, baptised Le 19M, was held in the presence of Bruno Pavlovsky, President of CHANEL Fashion and President of CHANEL SAS, Frédéric Hocquard, the Deputy Mayor of Paris, in charge of cultural economic diversity, representing Anne Hidalgo, Mayor of Paris, Patrick Braouezec, President of the Plaine Commune, François Dagnaud, Mayor of the 19tharrondissement in Paris and the architect Rudy Ricciotti, winner of the Grand Prix National de l'architecture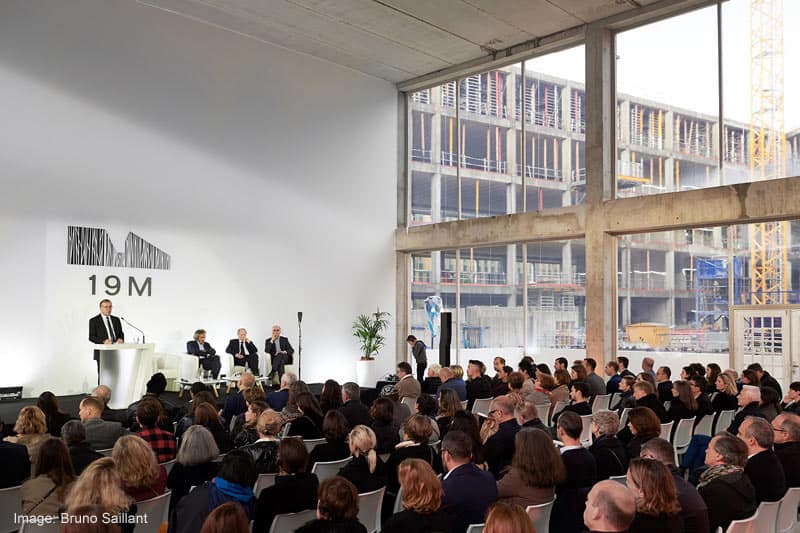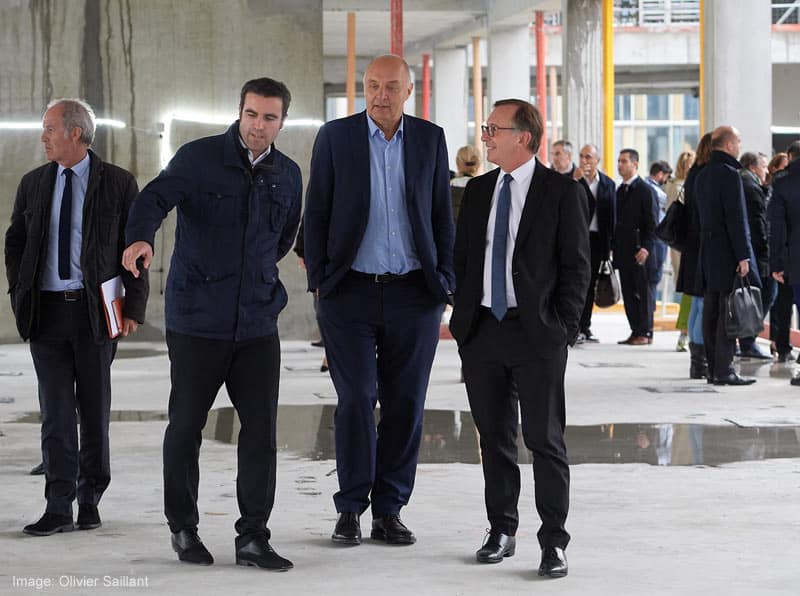 19M: The Exceptional Heritage of Métiers d'Art by CHANEL
The aim of this outstanding project is to bring CHANEL's Métiers d'art together under one roof. Six hundred people in total:
Embroiderer Lesage along with Lesage Intérieurs and its École de broderie d'art,
Montex atelier and MTX, its decoration department
Shoemaker Massaro
Feather and flower expert Lemarié
Hatter and milliner Maison Michel
Pleater Lognon
Grand flou atelier Paloma
Goldsmith Goossens
All this know-how will be able to express their tremendous skills while remaining close to the Creation studio at CHANEL as well as the other fashion houses that rely on their work.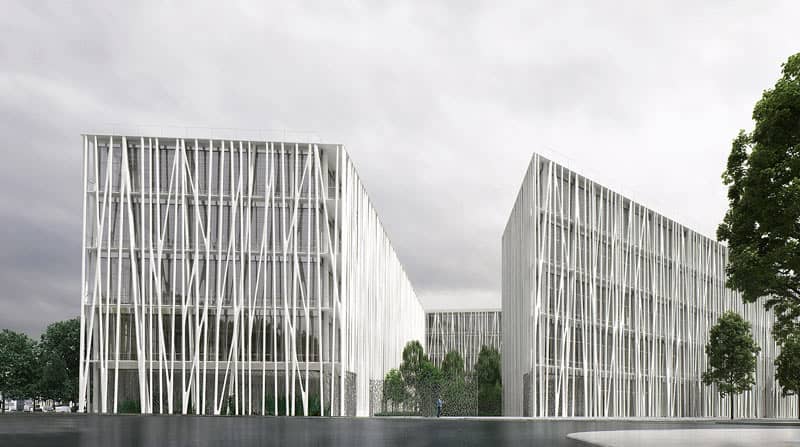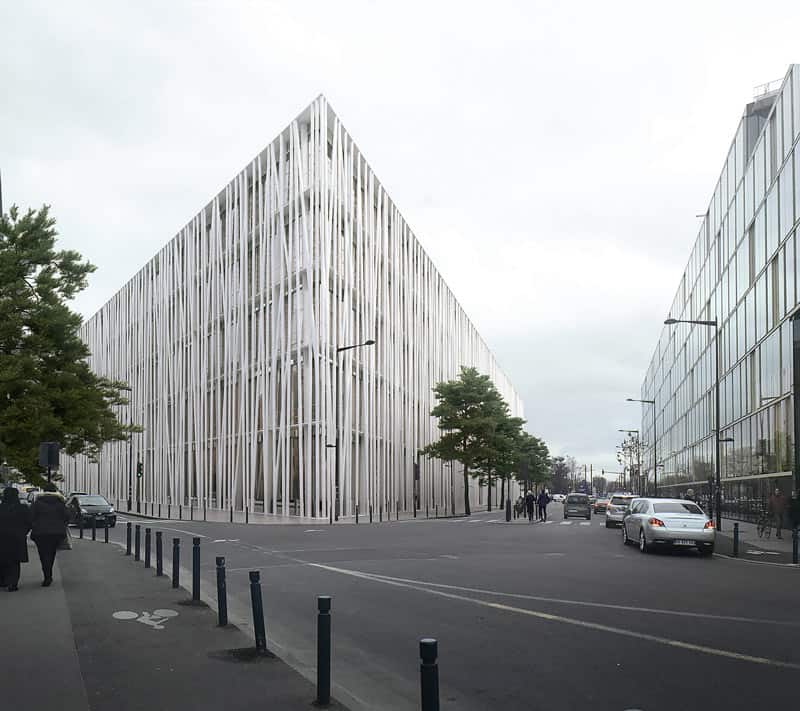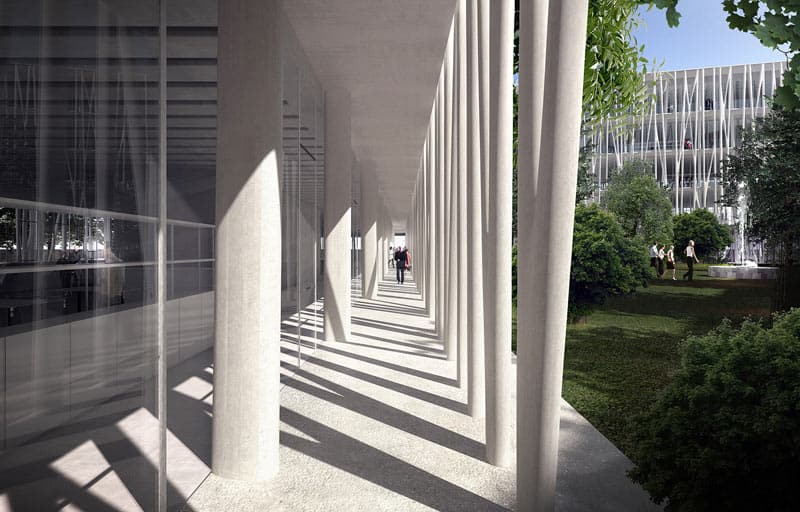 19M: An Outstanding Architectural Project
Built on 9,000m² of land at the Porte d'Aubervilliers, the 25,000m² building complex, once completed, will extend over five floors and two basements. The project was designed by architect Rudy Ricciotti and his challenge was to recount the relationship between the technical and expert complexity of fashion's handcraftsmanship and the extreme technological nature of the project. Its structure and its architecture are the results of the highest quality environmental considerations. The building completely respects the Parisian climate plan and as well as promoting energy efficiency and biodiversity, aims to be awarded the most demanding environmental certificates and labels, including:
NF HQE Tertiary Buildings standard
BREEAM International New Construction certificate
LEED Label
Its name alone, Le 19M, resumes the vocation of this new ensemble: M for the words Mains (Hands), Mode (Fashion), Métier (Craftsmanship), and 19 for the arrondissement that welcomes it, on the edge of Paris. Le 19M, a building full of life, open to the world and the public, will be an actor in its own right in the future Grand Paris.
"Le 19M is an ambitious project, as much for its urban and architectural qualities as for its functionality and its objectives in terms of innovation and sustainable development. Our goal is to maintain and develop the exceptional heritage of the Métiers d'art, at the crossroads of Paris's cultural influence and the societal issues of fashion" – Bruno Pavlovsky
With Le 19M, CHANEL is continuing the project to preserve and develop the savoir-faire of the Métiers d'art that was begun in 1985, with the acquisition of more than thirty Maisons d'art and manufactories that represents about 5,000 employees, serving creation at CHANEL and other major names in fashion.
José Amorim
Information sourced by the author for LuxuryActivist.com. All content is copyrighted with no reproduction rights available. Images are for illustration purposes only.