Reading Time:
3
minutes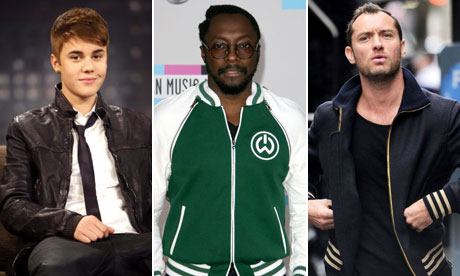 Justin Bieber, Will.i.am and Jude Law in bomber jackets. Photograph: Rex Features
Thanks to stars such as Jude Law, Justin Bieber and Will.i.am and the influence of this summer's Olympics, retailers are reporting a surge in interest for the bomber jacket.
Luxury retailers and the high street have seen major interest from consumers despite the squeeze on personal finances, with styles in leather, jersey and technical fabrics all selling well.
The online retailer Asos has sold more than 5,000 bomber jackets in the past two months and recently ordered 20,000 more worth 1m for next season.
Topman has also had an "extremely positive reaction" to the jacket shape both in its larger stores and online. It plans to roll out more variations regionally in the coming weeks and will be building on its current range of 15 styles for autumn.
Robert Johnston, associate editor of GQ, said the appeal was simple. "It's express fashion," he said. "Bomber jackets are really easy to wear because you can just shove them on with jeans and a T-shirt. Plus they have pockets, which makes them practical."
Terry Betts, senior buyer for Mr Porter, flagged up their versatility. "They work well with chinos and denim, and create a clean silhouette accentuated by the fact they are fitted and stop at the waist," he said. They have the "wearability factor" said John Mooney, head of men's design at Asos. "There's something for everyone in the bomber jacket repertoire, whether you're a lad's lad or a fashion guy.".
Bomber jackets also have relatively ageless appeal, as shown by the celebrities who have taken to wearing them of late. Stacey Smith, menswear buyer for Matches, said: "Ryan Gosling in Drive last year proved they're not just for the twentysomething man."
Esquire has featured the look on its cover for the past two months. The May issue shows John Hamm in a seersucker style while the current cover has Michael Fassbender in a black leather Gucci version.
Betts said the bomber had evolved from a simple "utility garment in nylon", helping it reach a broader audience. "We have them in seersucker, linen, leather and even reversible versions," he said.
Reece Crisp, men's contemporary and design wear buyer at Selfridges, said the bomber had proved a hit because of strong performances across the board, from traditional varsity styles to luxury versions in leather by labels such as Alexander Wang.
But the bomber's popularity is also a reflection of a move in men's fashion towards sportier clothes, said Crisp. "Sportswear as an aesthetic is really having a moment and the bomber is a staple piece within that look.".
This sporty look has been seen in menswear from upcoming designer names at London fashion week, such as the increasingly influential Christopher Shannon, to powerhouse brands in Paris and Milan. Johnston said luxury sportswear was becoming "increasingly sophisticated".
One of the most influential collections for spring/summer 2012, by Louis Vuitton, featured designer versions of varsity jackets and sporty shorts made from expensive fabrics such as suede.
These are also selling well. Smith has seen a great response from customers towards statement bombers this season. "It seems men are more willing to explore bolder colours and textures when they are tempered by a sportier shape," she said.
View article:  
Bomber jacket sales surge as London 2012 Olympics boost sporty fashion