Reading Time:
3
minutes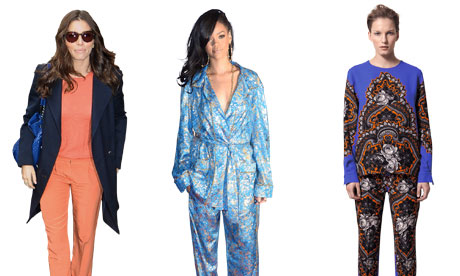 The matchy matchy look:Jessica Biel, Rihanna and a Stella McCartney model show how it's done. Photographs: Getty; Mavrix/Xclusive
Yes, it's official – you're allowed to match your clothes again
Clashing patterns has been all the rage for what seems like an age – yes this week Fashion Statement rhymes. But Jess Cartner-Morley has just broken the news that in fact matchy-matchy is the new fashion compliment you should be hankering after. Firstly, from Stella to Whistles, there's been the surprise success of this season's pyjama set trend. Secondly, designers and the high-street are backing matching print top-and-bottom sets for next season too. This week Topshop's autumn/winter press preview was bursting with co-ordinating separates in all manner of textures and patterns. Oh and Wendi Deng got in on the act with a nail polish and cuff matching moment during Leveson.

Barjis Chohan's AW 2012 collection: "Young, fashionable Muslims are struggling to buy clothes from the Western, high-street shops" Photograph: Barjis Chohan



Muslim fashion is having a moment
Muslim fashion is worth 59 million globally. Vivienne Westwood proteg Barjis Chohan has just launched a fashion-forward, Muslim-focused line. Harrods are selling abayas. This week Sara Ilyas rounded up how Muslim fashion is having a moment while discussing hijab trends and what fashion labels are doing to target a modern Muslim audience.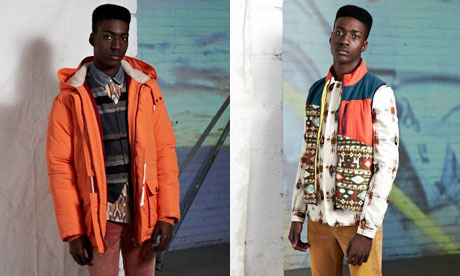 ASOS Autumn/Winter 2012 key trends. Photograph: ASOS


There was a lot happening in the world of menswear
Singapore staged a men's fashion week, which Sue-Wen Quek had some issues with. The first London Collections Men schedule was released by the British Fashion Council. As Imogen Fox noted, there are a lot of Christophers (and a Prince) on board for this first men's London fashion week. Savile Row was once again in the spotlight: Charlie Porter thought it needed to "adapt its crafts to the modern world." Gustav Temple meanwhile, argued that there was no place for the likes of Abercrombie & Fitch on this hallowed street. And if this wasn't enough male fashion action then Simon Chilvers' roundup contemplated Russell Brand's select committee look, shoes, and a new knitwear neckline.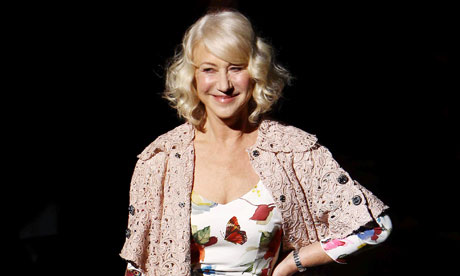 Helen Mirren on the catwalk at Dolce & Gabbana's autumn/winter 2012 show in Milan earlier this year. Photograph: Olycom SPA/Rex Features


Dolce & Gabbana made the Invisible Woman giddy
She was attending the first Vogue fashion festival and minding her own business, when suddenly the Invisible Woman found herself whisked off to interview Italian power duo Dolce & Gabbana. She loved them. They talked about older women, botox and chocolate. Obvs.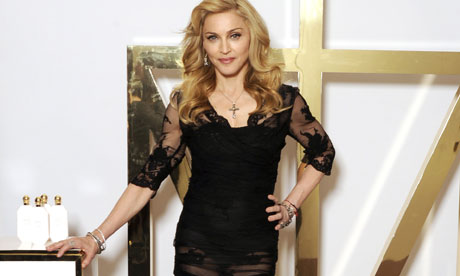 Madonna launches her first fragrance Truth Or Dare. Photograph: Kevin Mazur/WireImage


Cowell and Madge
Not together. Can you imagine? No, no, no. The world couldn't cope. Instead this week Ask Hadley dealt with why Simon only appears to have two outfits. And perfumer Stephen Nilsen lifted the lid on working with the Queen of Pop on her first fragrance. Cue tales of 8ft high black steel walls and bitching about musk. L.U.V Madonna!
Source – 
Fashion statement: matchy-matchy, and other trends that are 'on trend'