Reading Time:
2
minutes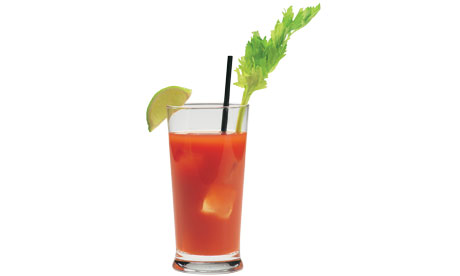 Hip sip: Bloody marys are so O.V.E.R, It's all about tomato-flavoured vodka shots these days, dont' you know? Photograph: Getty Images
Going up

Jigsaw men's coats Honestly, some of the best we've seen for autumn. From Harris tweed to crimson wool, there's a classic overcoat remix here to suit all ages.
Veep New HBO comedy by the master of the political lol-umentary, Armando Iannucci. With Julia Louis-Dreyfus starring. And we have to wait until June to see this? Sob.
The seafoam hem The only way to do asymmetry in 2012. See Stella's Nesbitt dress. The high street will be on to this look soon, surely.
Jessica Hynes Siobhan in Twenty Twelve rivals Edina Monsoon as the best PR on TV ever.
Beyonc's flat shoe wardrobe Thongs, leopard slippers and hi-tops. Don't go back to the heels, Bey, this is so much better.
Going down

Blue or green Extra gum Do keep UP. Raspberry and Lemon Smints bring the Jonathan Saunders SS 12 colour combination to your Sophie Hulme bag. Strawberry Extra is the bare minimum of handbag jazziness.
Long summer hems and heels It never, ever works. Trust us.
Retro pine-tree air fresheners Plug-in car atomisers are a thing now. See posh perfumier Illuminum.
Making bloody marys Sidestep the celery shopping with a shot of spicy-tomato-flavour Bloodshot vodka instead. Bloody mary in espresso-quick form.
Read the article: