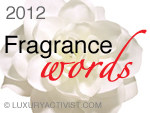 Fragrance words episode 8 features Diane Thalheimer-Krief. Please see below for the french version. EPISODE 8: DIANE THALHEIMER-KRIEF (EN) Diane Thalheimer-Krief has 20 years of experience in developing fragrances, international marketing, olfaction and evaluation. From her studies (CELSA, Economics, Olfaction), through her thesis on Perfumery (Study and Research on perfume plants) she dedicated her career with passion to give birth to beautiful creations. After several years of international marketing direction in a composition Laboratory, she created her company, REDBERRY in 2003. It is a company exclusively about services and consultancy dedicated to perfume. Her areas of expertise: Training, training tools, Perfumery gestures, Marketing (culture, trends and conferences), Brand Portfolio (DNA analysis and olfactory mapping) and Intranets. THE FRAGRANCE MARKET IN 2012 Luxury Activist (LA): 2012 New launches, which are the fragrance launches that positively marked this year ? Diane Thalheimer-Krief (DT): Coco Noir, Jimmy Choo, La Petite robe noire by Guerlain, Martin Margiela and Bottega Venetta. LA: According to you, which are the failed launches this…
The 26 of May marked the announcement of Jean-Paul Gaultier leaving Hermès Couture. I still wonder why. The Brand announced the arrival of Christophe Lemaire in charge of the Feminine line.
Martin Margiela is a belgium fashion designer and represented with Rei Kawakubo the important leaders of desconstruction. Today he is launching a fragrance thanks to L'Oréal.