Reading Time: 4 minutesToday the high-tech sound company Harman announced a global collaboration with the world megastar Jennifer Lopez with a new campaign entitled "Beautiful Sound". HARMAN (www.harman.com) designs, manufactures and markets a wide range of audio and infotainment solutions for the automotive, consumer and professional markets — supported by 15 leading brands, including AKG, Harman Kardon, Infinity, JBL, Lexicon and Mark Levinson. The company is admired by audiophiles across multiple generations and supports leading professional entertainers and the venues where they perform. More than 25 million automobiles on the road today are equipped with HARMAN audio and infotainment systems. HARMAN has a workforce of about 12,500 people across the Americas, Europe and Asia, and reported net sales of $4.0 billion for twelve months ending September 30, 2011. Harman Kardon has everything of a true elegant and luxury experience. Perfect design, high performant materials, reliability and timeless lifestyle attitude. I have my HK670 for years and it fits perfectly the living…
Reading Time: 2 minutesAgileBits is a Canadian based company founded by 2 people: Roustem Karimov and Dave Teare. They have a brilliant software called 1Password, compatible with Apple, Android or Windows. It allows us to save our most sensitive data and it is one of the best softwares/Apps in the market for Data safety. With our Digital life growing more and more, one very important matter comes to our minds almost each day, or even several times a day : "what is my password?" In deed, how many online accounts, credit cards, email addresses, loyalty program numbers and frequent flying client numbers one have today? According to the Guardian newspaper, one person can have around 200 different "sensitive information" like passwords, pin codes, etc… The average person can remember around 50 passwords, phone numbers and pin codes. It is not bad but definitely not enough. 1Password can help you with this and much more. If…
Reading Time: 4 minutesApple announced yesterday the launch of its iPhone 4S. It is not the revolution but an evolution. Basically all you who were waiting for the new iPhone to get one…. well now it is time. I will not talk about the 8MP photo camera, or the HD1080P videos, or even a quite revolutionary Voice control (that makes Android and Blackberry out of order)… no. I will talk about iCloud. The story started with iTools in 2000. This one only the Apple freaks will still remember. Then, the online synchronization service from Apple became .Mac in 2002 and had finally the good formula for Developers and non-developers. It took them until 2008 and the launch of iPhone to start reviewing their site and came up with MobileMe. MobileMe brought extra fonctionalities like synch your mails, calendar, contacts and pictures + storage + "find your iPhone" application. Since then, sharing content online…
Reading Time: 2 minutesAfter the launch of the new Alfred Dunhill campaign for Autumn/Winter 2011, now the brand is pushing the boundaries of the Voice campaign thanks to Augmented reality. In deed, thanks to a free App called Aurasma, you can basically watch the videos out of the printed ads. Which means that any magazine ad can reveal the videos just under the "eyes" of your telephone. According to Aurasma Inc., Aurasma is a radical piece of technology that represents the future of how we use our mobile devices by bringing the physical and virtual worlds together for the first time. Available on smartphones, the app was created out of technology that is capable of recognizing images, symbols and objects in the real world and understanding them. It can then deliver relevant content in real time, including videos, animations, audio or webpages. Using the smartphone's camera, GPS, Bluetooth, WiFi internet and its position, acceleration and direction,…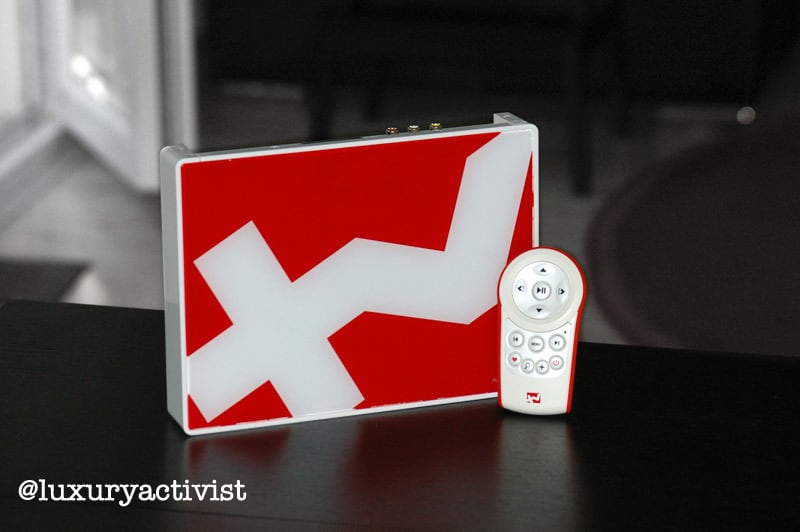 Reading Time: 6 minutesSwissTV is an interesting swiss offer for VOD, video on demand. Most of online offers are either not compatible with what you have at home – hardware – or too expensive and sometimes not appropriate. Switzerland has its ways and here we might see a nice (r)evolution. Check it out.
Reading Time: 1 minutesHere is the new TV commercial for the iPhone 4. The theme is about the fact that if "you do not have an iPhone" basically you are a loser…. It is bold but is it not a little over the top?
Reading Time: 1 minutesHere is the video of the week about how fast Earth population is growing and how faster the internet revolution is taking control of the planet… Amazing.
Reading Time: 2 minutesHi, this week I could try the new BOSE Bluetooth headset. I was looking for a new bluetooth headset for my iPhone 4.
Reading Time: 2 minutes I prefer to talk about small, I should say Slim beautiful pieces of luxury technology. These little wonders are called the Victorinox Slim and the Victorinox Slim Duo. It is amazing to see what you can have out of a Swiss Army Knife! We are far away from camping or hunting…
Reading Time: 1 minutesSteve jobs is leaving the company leadership for an undetermined time… Is Apple going to survive? Of course.
Reading Time: 3 minutesWith the new Ascent Ferrari GT, Vertu shows how far inspiration can come from anywhere, even from the Automobile. As each phone is handmade, all details are in the state of art. Each detail reminds one characteristic part of a Ferrari car. It is masculine, discret yet design oriented, a luxury phone!
Reading Time: 3 minutesIt just came up on Twitter. Limewire, the world well known P2P website and software was closed down by law. I just opened mine and check what I got: LimeWire, one of the world's most popular peer-to-peer filesharing websites, has been shut down after a four-year legal battle with the US music industry. A federal court in New York issued a "permanent injunction" against LimeWire late on Tuesday, ruling that the platform intentionally caused a "massive scale of infringement" by permitting the sharing of thousands of copyrighted works by its 50 million monthly users. Founded in 2000 by Mark Gorton, a former Wall Street trader, LimeWireis now restricted from allowing the searching and sharing of copyrighted material. The website will continue "working with the music industry to move forward", a LimeWire spokeswoman confirmed. US judge Kimba Wood ruled that record companies "have suffered – and will continue to suffer – irreparable harm…
Reading Time: 1 minutesBased on an intelligent partnership between FERRARI and the computer constructer ACER, the world saw this week the arrival of the first official Ferrari phone.