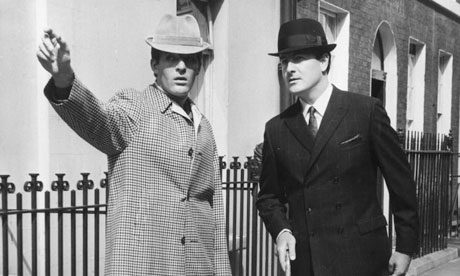 Suits designed in 1966 by Aquascutum and Simpson-Daks, members of the British Menswear Guild. Photograph: Keystone/Getty Images
The growing variety in men's clothes has reached a point where the tailoring world talks of rival styles. In Britain, it is the Flare line; in Germany, the Flowerpot line; in America, it is the Ivy League. Named designers of men's clothes are conspicuously absent, particularly in Britain.
Whatever the designer's interpretation of what men (or, as often or not, their womenfolk) want in clothes, it is increasingly apparent that we are fast moving towards an "international" style. Of course, there will be variations: age modifications between, say, the "teenager," the "man about town" and the "professional man", plus national variations.
Just as Paris has had to fight to resist the challenge of Italy and America in women's fashion, so today Savile Row is making a stand to retain some claim for traditional British bespoke tailoring. Hence, the Flare line, London's first major attempt for a decade to introduce a revolutionary new style. Will it succeed?
This spring's version of the Flare line, first introduced a year ago, is modified to the point where it at least becomes a practicable proposition. It is essentially the marriage of a cavalry-type jacket, longish in length and flared, and semi-bell-bottomed trousers with turn-ups.
Combined with it is the growing emphasis on brighter colours, on bold checks for country and Italian-inspired stripes for town wear. Waistcoats pick up a single colour from woollen or worsted suiting and are further enlivened by a novel cut.
Already, Savile Row reports that some of London's bold pioneers are adopting and adapting the Flare line. It will need further modification, however, before the ready-tailored manufacturers attempt to market it on a mass scale. Which is probably why the bespoke tailors have plunged for it.
The continental Flowerpot style is slender-making. The emphasis is on freedom of movement. It appeals as much to the young man on the continent as to those who wish to hide middle-age spread.
The jacket is directly opposed to the British conception. It is short with natural sloping shoulders, narrow lapels and slim sleeves to give the arms more emphasis. The trousers hug the hips and have very narrow bottoms without the turn-ups.
A touch of continental logic: bespoke tailors now cut the trouser knee on slightly fuller lines; this, together with a lining from the knee upwards, prevents bagging.
In America, this same mood of casualness has been developed over the years from what the college students wore into what has become known as the Ivy League line. Extreme forms of the Ivy, popular with younger men, are similar to our Edwardian style.
Already an American version of the Flowerpot has appeared, known as the Continental. No doubt each country will adopt its rival's styles. It becomes harder and harder to spot a man's nationality by his clothes.
Link –
From the Observer archive, 12 April 1959: This should suit you nicely, Sir