Reading Time:
4
minutes
Putting a vest amongst the MPs
Oh Russell, with your jokes to the Commons home affairs select committee and your rock 'n' roll cowboy fashions. This week, Mr Brand might have been in the headlines for providing his thoughts on Britain's drug policy to MPs, but, really, wasn't everyone just thinking '"what was he wearing?'" If you missed it, the full look was as follows: hat, sunglasses, a collarless leather coat, some kind of tapestry-style belt, ripped acid washed black jeans and slouchy boots. No real surprises here, as Brand has long championed the skinny-fit, dishevelled look popular on the high-street for aeons. But the shocking thing about this ensemble was when he took his coat off, and was sat, in a formal setting, wearing a vest. Vest sleeves – that's quite a look. For those who prefer men dressed up all neat and in suits, it wasn't exactly a persuasive argument for dress down Friday. However in dressing to the beat of his own drum, Brand came across as totally authentic, a message that a bland suit and a boring tie rarely manages to convey. Discuss.
Shoes! Shoes! Shoes!
Selfridges announced this very morning that they are going to launch the biggest men's shoe department ever. Coming this November, the department store is creating a 10,000 square foot space that will house 250 brands and stock around 72,000 pairs of shoes at any one time. Plus, while you're trying on new ones, your old shoes will be whisked away and polished. Not sure what happens to trainers but when we know we'll get back to you…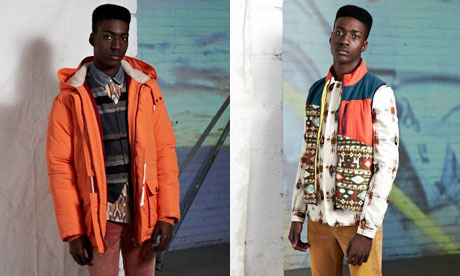 ASOS Autumn/Winter 2012 key trends Photograph: ASOS


Next season is gonna get busy
Yesterday Topman showcased their autumn/winter 2012 collections with lashings of print (peacock, paisley, Aztec) on shirts, suit jackets and leggings alongside colour blocked jackets, posh tailoring and fuzzy mohair knits. In comparison to the moody Topman Design collection, this was positively hectic, taking in the themes of South America, 90s Brighton alternative, 70s London and George Best. This fancy for the bold is also one of the key messages that online retailer ASOS are pushing at men for next season too. Last week during their preview at Somerset House, racks were bursting with Aztec fleece jackets, coloured cords, loud patterned knitwear and bright padded coats. The future's bright etc.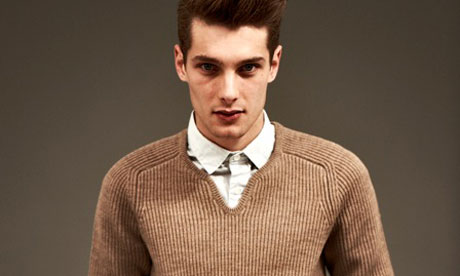 Jigsaw keyhole sweater Photograph: Jigsaw


A new neckline to obsess over
Lucian Freud and Tim Roth were both on design director for Jigsaw menswear Frances Walker's autumn/winter moodboard. Having relaunched the menswear arm of the business last month, including a standalone store in Spitafields, Walker's vision is thoroughly handsome. These clothes are well made and seem to me to be designed to get better with age. They're grown up but not boring – there's spicy tomato coats, mustard moleskin, tartan suits and a boozy claret duffle. But there are also boring but useful wardrobe staples, such as an 89 basic shirt, which has a lovely handle and something of the Margaret Howells about it. Admittedly, it's at the more expensive end of the high-street – coats are from 200ish to 450 – but the clothes have a longevity about them, matched by well-sourced fabric. I'll be buying this camel fisherman rib jumper with it's "keyhole" neckline – I do love an interesting knit-neckline. See also: next season Alexander Wang.
What I've bought this week
No, not an umbrella. What's the point, you only lose them. Instead the wardrobe is to be suitably tarted up by this marvellous Christopher Shannon collage print sweatshirt.
Collaboration of the week
It's an installation and month long shopping love-off between London's sparky designer emporium b-store and York's premium independent boutique Coggles. It launches today and is as good a reason as any to shout whoop at passerbys.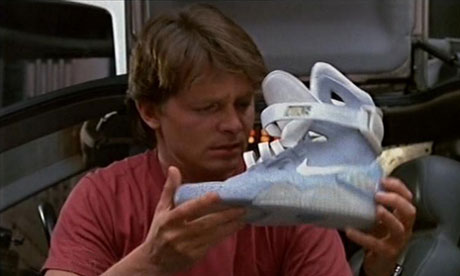 Nice dunks, McFly Photograph: Back to the Future


Retro film fashion moment of the week
Michael J Fox's hair in the Back to the Future series was truly a thing of beauty, particularly coming into its own, volume wise, in part II. Hair aside, let's take a moment to cherish the fashions of the film. Not only is there Marty's resizing jacket – a bit Balenciaga – and hi-top Nikes that lace themselves (everyone is wearing Nike trainers these days). But there's also Doc Brown's retro repeat pattern print shirt (a bit this season Prada) and visor (a bit next season McQueen). I'm also certain I saw a peplum…
View original post here: