Reading Time:
7
minutes
Step into a fantasy world and wonder with Guerlain and its latest Beauty Advent Calendar. As the winter chill sets in and anticipation for the festive season grows, the renowned beauty brand invites you on a captivating journey led by its iconic emblem, the bee. "BEELIEVE IN FANTASY" is more than just a catchphrase; it's an open door to a realm where the everyday collides with the enchanting.
Conceived in collaboration with the famed jeweller Begüm Khan, the narrative behind this year's calendar is nothing short of a modern fairytale. It's a place where majestic beasts prance alongside exotic blossoms, and every rustle in the underbrush might herald another dazzling seasonal surprise. The magic in this forest is palpable, hanging in the air with every shimmering wingbeat and playful tail wag.
But the pièce de résistance lies in the beehive itself. Bound by a luminous green ribbon, the hive promises wonders beyond imagination. With 25 meticulously curated gifts, each day leading up to Christmas transforms into an exquisite revelation. The calendar is not merely a countdown to the big day; it's a celebration of the opulence, artistry, and heritage Guerlain brings to the beauty world. Prepare to be enchanted. This December, let Guerlain's beehive guide you through a holiday experience unlike any other.
The Hive of Wonders: Guerlain's Enchanting Advent Calendar
Christmas is a time of wonder, of secrets whispered beneath hushed tones, of magic hiding in every nook and corner. This year, as the frost adorns the windows and the world waits with bated breath, the bees at Guerlain have been secretly reinventing their Hive of Wonders, weaving in more marvels than ever.
As each day tiptoes closer to the jubilance of Christmas, the Beehive unveils itself in a manner hitherto unseen. Taking cues from the imaginative domain of the illustrious jeweller Begüm Khan, this Advent Calendar is a voyage into the fantastical spirit of the festive season. It promises not just daily delights but keeps its most precious treasures guarded, revealing them in a ceremonious dance of anticipation and gratification. The contents of this beehive are truly a testament to Guerlain's dedication to luxury and artistry. The calendar houses:
An exclusive collection of 9 L'Art & La Matière miniatures featuring fragrances that range from the ethereal Musc Outreblanc to the evocative Cherry Oud.
A sensory journey through 6 scented candle miniatures, with scents like the wintry Encens d'Hiver and the vibrant Muguet de Printemps.
A trio of Sapoceti-perfumed soaps reminiscent of distant lands with notes of Vanilla, Iris, and Bergamotte Calabria.
A holistic skincare experience with the Abeille Royale Day and Night Creams and the Advanced Youth Watery Oil.
For those moments of glamour, the calendar presents a KissKiss Shaping Cream Lipstick in the passionate Rouge Kiss shade and the Parure Gold 24K radiance primer.
And to envelop one's environment in scented wonders, two exquisite ceramics to perfume.
The Beehive's mesmerizing appearance is an ode to the artistry of Begüm Khan, the Turkish jeweller renowned for her radiant and innovative designs. Drawing from nature's majesty and the fantastical world of animals, Khan captures their most alluring aspects. It's no wonder then that this festive season, Guerlain chose to paint its Beehive Advent Calendar in Khan's emblematic green, making it a shining beacon of festive luxury.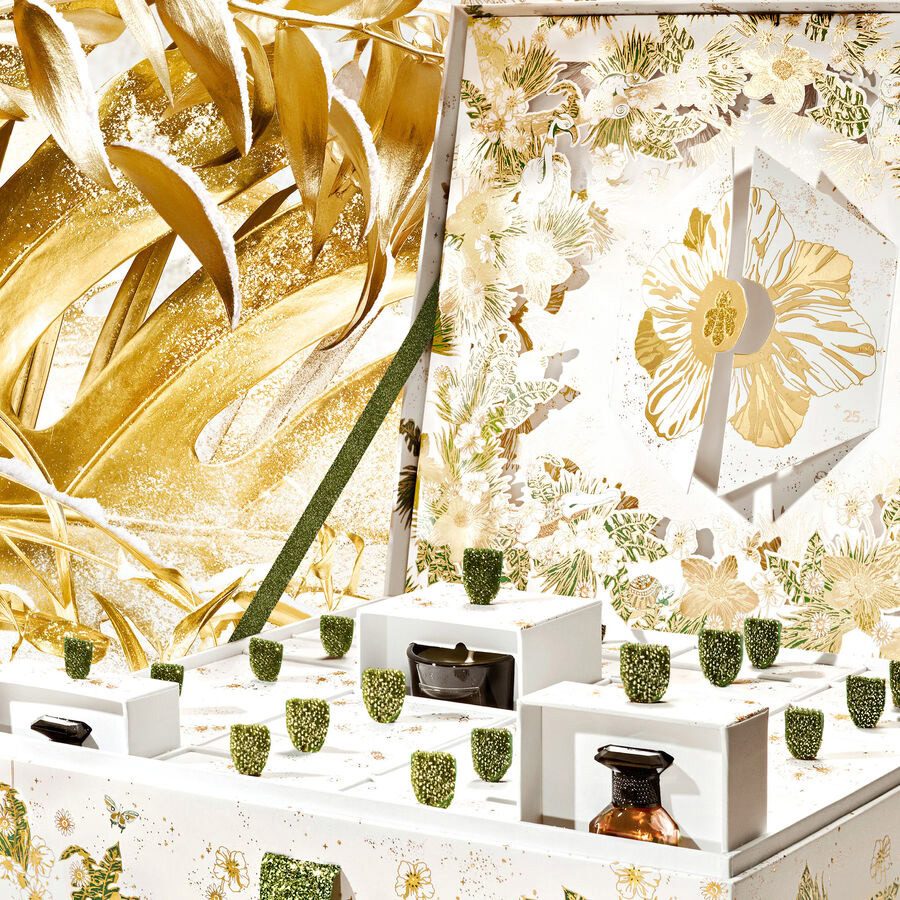 But beyond the veil of beauty and opulence lies Guerlain's heartbeat: its unwavering commitment to sustainability and positive impact. Since 2007, the brand has championed the cause of biodiversity, sustainable innovation, climate action, and societal upliftment. At the core of its initiatives lies the bee, nature's wondrous alchemist.
In the end, Guerlain's Advent Calendar is not just a box of beauty products; it's a testament to luxury with a conscience, a celebration of art, nature, and commitment. Dive into the magic this festive season with Guerlain's Hive of Wonders.
Begüm Khan: The Luminary of Jewel Design
Jewellery is more than just ornate pieces worn for adornment; it tells tales, captures moments, and represents the essence of epochs. One such name that has redefined the paradigms of contemporary jewellery design is Begüm Khan.
Hailing from the historic and culturally rich landscape of Turkey, Begüm Khan's roots play an intrinsic role in her creations. Istanbul, her home city, stands as the confluence of the East and the West, and this melange of cultures reverberates in her designs. It's a captivating blend of Ottoman opulence, Byzantine intricacies, and modern-day minimalism, making her pieces not just jewellery but wearable art.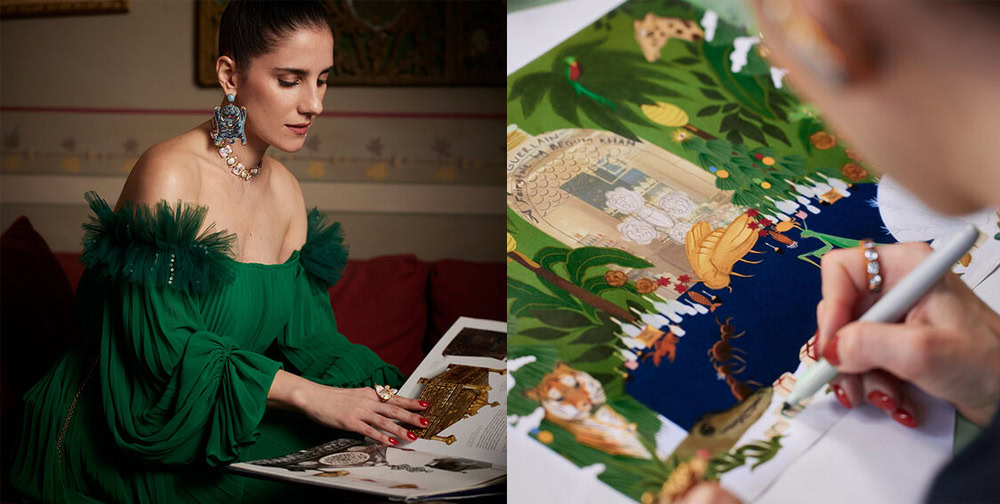 Khan's signature style is a fascinating fusion of the traditional and the avant-garde. Drawing her inspiration from the myriad wonders of nature and the fantastical world of animals, she crafts pieces that often blur the lines between reality and fantasy. From beetles adorned with precious gems to serpents winding their way around intricate settings, her designs are an ode to the natural world and its myriad mysteries.
What sets Begüm Khan apart in the crowded world of jewel design is her audacious use of materials and textures. She doesn't shy away from experimenting, often juxtaposing unexpected elements together. Whether it's the glimmer of a diamond set against the roughness of unpolished metal or the allure of gold paired with the raw beauty of semi-precious stones, Khan's creations are always surprising and spellbinding.
But beyond her designs lies a narrative. Each piece tells a story, perhaps of ancient Turkish legends, of the enthralling wildlife that Khan so adores, or simply of the cosmic dance of stars. Wearing a Begüm Khan piece is akin to donning a fragment of history, myth, and unbridled imagination.
« CHRISTMAS IS MAGIC, IT'S FANTASY, IT'S BONDING. »

Begüm Khan, artist and jeweller
In the ever-evolving world of jewellery design, where trends come and go, Begüm Khan has carved a niche for herself. Her pieces are not mere accessories; they are statements, dialogues, and sometimes, even dreams translated into metal and stone. Through her artistry, Begüm Khan doesn't just create jewellery; she crafts legacies.
To conclude,
Guerlain, with its storied legacy, has always been synonymous with luxury, crafting products that transcend mere beauty to become timeless masterpieces. This festive season, the brand evokes the magic of Christmas, enveloping it in a cocoon of opulence and wonder. With the unveiling of the enchanting 'Hive of Wonders' Advent Calendar, Guerlain showcases its artistry, reminding us all of the beauty and mystery that the season holds.
The collaboration with the prodigious jewel designer Begüm Khan, is a testament to Guerlain's commitment to excellence. Khan, with her roots entrenched in the rich tapestry of Turkish culture and her flair for crafting pieces that narrate tales, brings a unique alchemy to this partnership. The fusion of Khan's imaginative designs and Guerlain's legacy is a dance of East meets West, tradition intertwined with modernity, resulting in an undeniably mesmerizing creation.
For those seeking to be a part of this magical journey, the doors to this realm of beauty are but a click away. Dive deep into Guerlain's festive offerings by visiting their official boutique online at:
https://www.guerlain.com/int/en-int/c/christmas-boutique-23-Inter.html.
Each product, each offering, promises unparalleled luxury and enchantment. As the bees return to their hives at the end of the day, let us, too, find our way to Guerlain's hive of wonders this festive season. For in its chambers lie not just beauty products but stories, dreams, and the very essence of Christmas. Let's 'bee' enchanted, for the best treasures often lie hidden in the most exquisite hives.
José Amorim
Information sourced by the author for luxuryactivist.com. All content is copyrighted with no reproduction rights available. Images are for illustration purposes only.