Reading Time:
19
minutes
Amidst the twinkling lights and the comforting embrace of Yuletide, the Advent calendars emerge as a beloved harbinger of Christmas joy. This festive tradition began humbly with its roots deep in the 19th-century German Protestant landscape. German families would mark the days leading up to Christmas by drawing chalk marks on walls or lighting candles, evoking a sense of festive anticipation. As time evolved, these markings transformed into a daily unveiling of holy images, setting the stage for creating the first handmade wooden Advent calendar in 1851.
"Advent," derived from the Latin word for "arrival," was initially a time of spiritual preparation. Over the centuries, it became synonymous with the anticipation of Christ's coming, and by the Middle Ages, its connection to Christmas was undeniable. However, the ubiquitous calendar we recognize today owes its design evolution to Gerhard Lang. Inspired by the vivid memories of his mother's creative countdown involving cookies, this German publisher pioneered the first printed Advent calendar in the early 1900s. Despite the shadows of World War II momentarily dimming its shine, the Advent calendar emerged resilient, capturing the hearts of Europe and the U.S., thanks to its adoption by influential figures like President Dwight Eisenhower.
The 1950s ushered in the delightful novelty of chocolate-filled Advent calendars, with brands like Cadbury embedding themselves into this rich tradition. Fast-forward to today and the Advent calendar has transformed into an exquisite canvas of indulgence. Retailers, recognizing its potent allure, have diversified its offerings. And amidst these transformations, luxury brands discerned an opportunity. They began crafting their opulent versions of this cherished tradition a while ago, intertwining the age-old joy of anticipation with a touch of modern extravagance.
In this article, we will journey through the world of luxe, unveiling the top luxury 2023 Advent calendars that redefine festive indulgence. Delve in, and let the anticipation begin.
Dior Advent Calendar – A Timeless Journey through Parisian Elegance
Dior transports us to the heart of Paris this festive season with their mesmerizing Advent Calendar called "Le 30 Montaigne". Echoing the grandeur of the House of Dior, this calendar is a tribute to the historic boutique located at 30 Avenue Montaigne. As you open the calendar, you are greeted by the captivating artwork of Pietro Ruffo, drawing you into an enchanting Parisian scene. Inspired by the timeless beauty of the Tuileries Garden, Ruffo brilliantly captures the garden's majestic wrought iron gates, the serene octagonal basin, and the symbolic statues that stand tall amidst its paths.
But the magic doesn't stop at the picturesque facade. Hidden within this poetic representation of Paris are 24 treasures waiting to be unveiled. Each day of December offers a gateway to Dior's illustrious legacy with a selection of miniature creations. From the intoxicating allure of Dior's fragrances to the refined elegance of their makeup, from the rejuvenating touch of their skincare products to the cosy ambience set by their scented candles – each miniature is a testament to Dior's craftsmanship and dedication to luxury.
Counting down to Christmas with Dior promises daily surprises and delight, allowing you to relive the magic of their iconic creations or experience them for the first time. Beyond the festive season, this work of art is designed for longevity; the Dior Advent Calendar seamlessly transforms into a chic storage case, ensuring that the elegance of Dior stays with you all year round.
See more about it here: https://www.dior.com/en_ch/beauty/fragrance-and-beauty/xmas-teasing
Sisley Paris Advent Calendar 2023: A True Odyssey of Beauty
This festive season, Sisley Paris invites you to embark on a luxurious journey like no other with their inaugural beauty Advent Calendar. A true masterpiece that marries art with opulence, it's a visual and sensory delight, graced with whimsical collages and intricate embroideries from the hands of Sisley's very own founder, Isabelle d'Ornano. It is not just a calendar but a tangible reflection of the brand's essence, wrapped up in joy-filled patchwork that narrates stories and inspirational words.
But as enchanting as its facade is, the true magic lies within. Comprising twenty-five drawers, each day leading up to Christmas promises a revelation of Sisley's meticulously curated offerings. From the transformative touch of their skincare, the elegance of their makeup, the nurturing embrace of the Hair Rituel by Sisley collection, to the evocative allure of their fragrances – every drawer unravels a facet of Sisley Paris' commitment to unparalleled beauty. Connoisseurs would revel in discovering highlights like the coveted Black Rose Cream Mask and the timeless Eau du Soir perfume.
Dive into a world where art and beauty dance in harmony. Every day brings forth a new moment of wonder, turning the anticipation of Christmas into an indulgent ritual of beauty discoveries. It isn't merely about counting days; it's about cherishing moments, each resonating with the spirit and legacy of Sisley Paris.
In an age where beauty Advent calendars are aplenty, Sisley Paris' rendition is a testament to timeless elegance and an ode to the joy of festive surprises. Prepare to be enchanted. You can find out more here: https://www.sisley-paris.com
Liberty London's 2023 Beauty Advent Calendar: The Crown Jewel of Festive Indulgence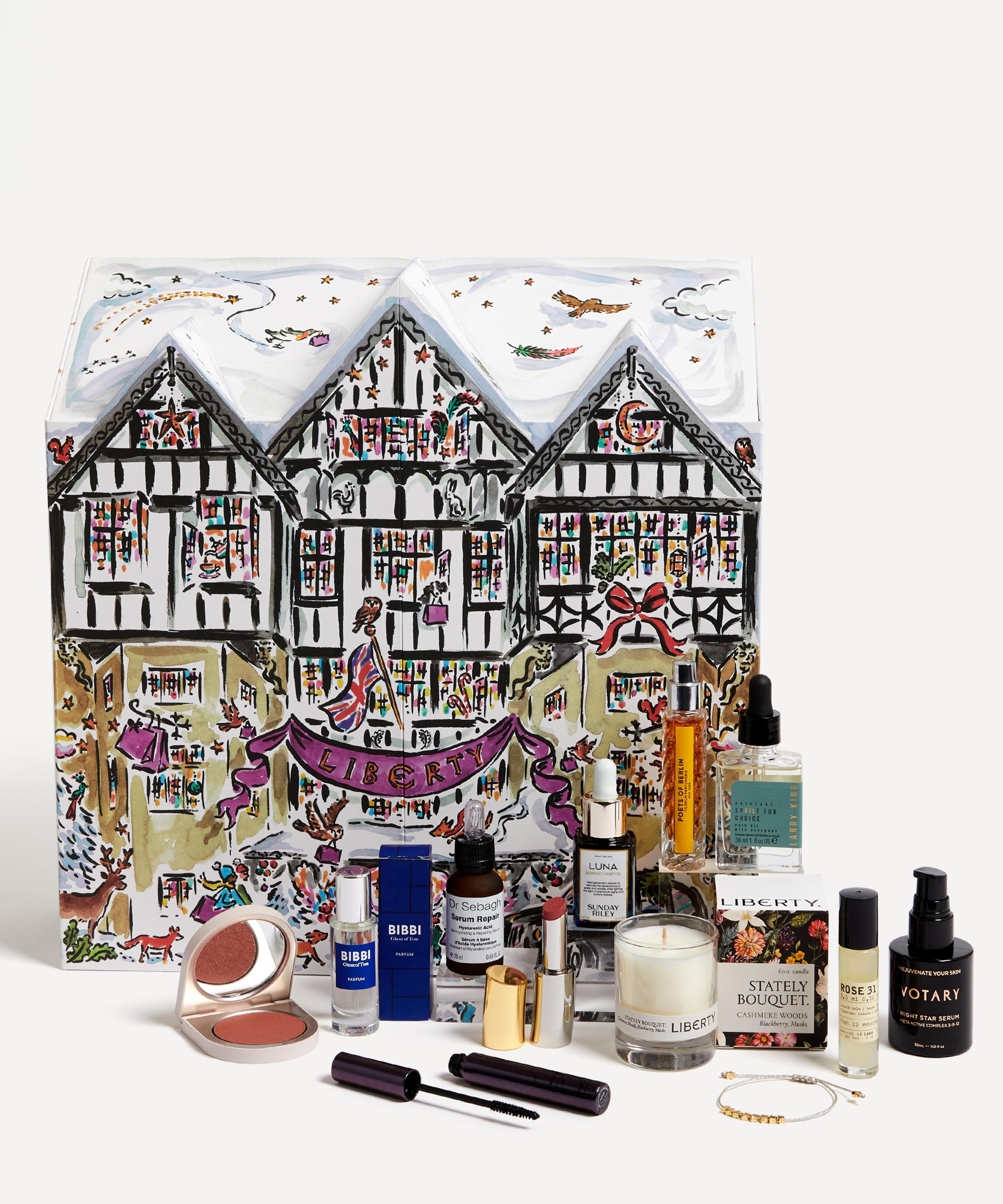 Amid the sparkle and anticipation that blankets the festive season, Liberty London presents its latest magnum opus: The Beauty Advent Calendar 2023. While the beauty advent calendar sphere burgeons each year with noteworthy entrants, none capture the essence of luxe indulgence quite like Liberty London.
This year's masterpiece, worth an astounding £1,043, marries traditional festive allure with an avant-garde selection, making it irresistibly coveted. Those in the know would acknowledge the calendar's reputation, with previous editions prompting eager fans to queue up the length of Carnaby Street to secure one. Such is the magnetism of this annual marvel.
Inside, the calendar houses 29 curated treasures spanning beauty, jewellery, and accessories. Handpicked by the discerning eyes of Liberty Beauty Buyers, the selection showcases an array of luminaries from the beauty cosmos: the skin alchemy of Votary, the olfactory artistry of Le Labo, and the makeup finesse of Surratt, to name but a few. An added intrigue is the unveiling of LBTY., Liberty's fresh fragrance foray, where the globe's leading perfumers meticulously craft scents.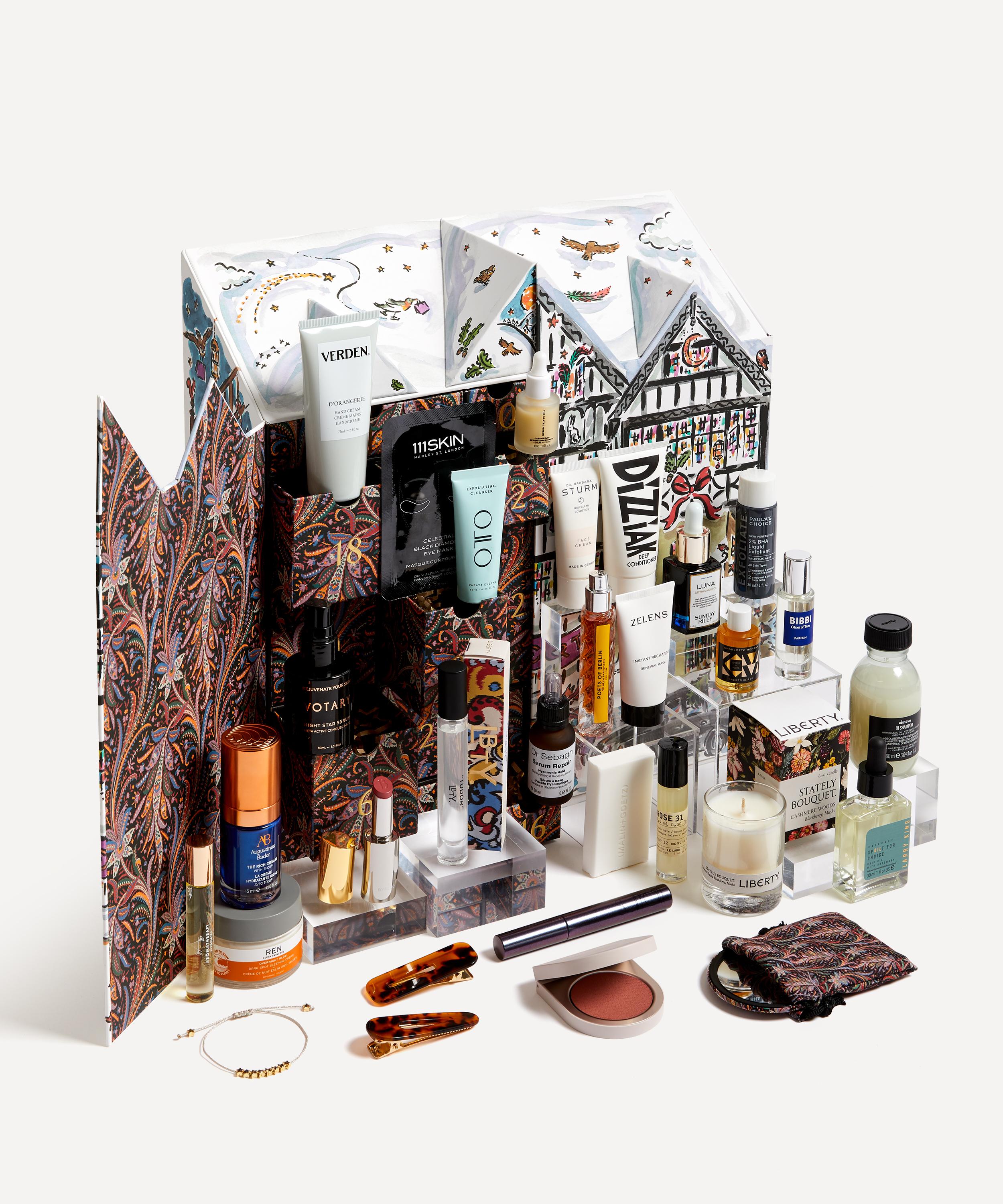 Yet, the magic doesn't end there. This year, in collaboration with the acclaimed artist Clym Evernden, the calendar transforms into a piece of art – a canvas that paints Liberty Store as an ethereal winter haven. A sprinkle of Roald Dahl-esque enchantment also lies within, with five calendars secretly housing Golden Tickets, granting the bearers a princely sum of £1,000 to indulge at Liberty.
It's more than an advent calendar. It's a grand gesture, a moment of unrivalled luxury each day leading up to Christmas. Liberty London's 2023 Beauty Advent Calendar awaits those seeking the quintessential festive treat – a symphony of luxury and tradition. See it more here: https://www.libertylondon.com/uk/liberty-beauty-advent-calendar-2023-000785490.html
Jo Malone London's Advent Calendar 2023: The Epitome of Festive Elegance
The onset of Christmas manifests in myriad ways, but for the connoisseurs of luxury, it's heralded by the procession of beauty advent calendars gracing our shelves. Amid this opulent parade stands Jo Malone London's offering, which effortlessly carves its niche as the season's most sought-after.
Channelling the quintessential Christmas spirit with its gingerbread motifs and candy-cane stripes, Jo Malone's advent calendar merges festivity with the brand's signature understated elegance. That iconic cream and black packaging, evocative of the brand's timeless allure, is complemented by playful festive details, promising a month of daily delights.
Hidden behind each door lies a mosaic of Jo Malone London treasures. From the refreshing Lime, Basil & Mandarin mini candle, guaranteed to infuse your space with zest, to the profound allure of the Velvet Rose & Oud cologne, the calendar's curated ensemble is nothing short of exquisite. The pièce de résistance? The full-sized 30ml Wood Sage & Sea Salt cologne, waiting to be unveiled on Christmas Day, adds a touch of seaside tranquillity amidst the winter festivities.
But beyond the festive frills, the true magic of this calendar lies in its perennial charm. Each product, be it the fragrant creams, the aromatic soaps, or the iconic colognes, has been crafted to transcend seasons. With its sweet citrus aroma, the Orange Bitters travel-size candle promises to be a favourite long after the last ornament is packed away. Indeed, Jo Malone London's calendar isn't just a December dalliance; it's an invitation to a year filled with olfactory delights.
Priced at £350, the limited-edition Jo Malone London Advent Calendar is not merely a purchase; it's an investment in timeless luxury, available now for those swift enough to secure their own. It beckons with the promise of daily indulgence, ensuring that 2024 is suffused with the brand's iconic scents and sophistication. Click here to see more details on this fantastic beauty Advent calendar:
https://www.jomalone.eu/ch/en/product/26322/107822/gift-sets/advent-calendar
Diptyque Paris' Advent Calendar 2023: A Luminous Countdown to Christmas
As December's frost beckons, an undeniably enchanting allure is in the air. Not just from the festive spirit but from the fervent anticipation of unveiling daily treasures encapsulated in the most awaited calendars of the season. Standing elegantly amidst them is Diptyque Paris' majestic advent calendar, which ignites a different kind of magic this year.
Dipped in the lore of the Encyclopédie des Lumières, Diptyque's calendar isn't just a nod to the festive season; it's a poetic homage to the enchantment of flames. Adorning its façade are intricate calligrams, transforming the concept of 'flame' into dancing, graphic artistry that leaps and twirls, weaving a mesmerizing tale before one ventures inside.
Behind each door, a symphony of scents awaits. Festive fragrances like Sapin, with its crisp pine notes; Délice, embodying the essence of holiday delight; and Coton, a gentle whisper of wintry cotton, make up just a few of the olfactory sonnets awaiting discovery. Each day of December promises an escape into Diptyque's fragrant universe, making the countdown not just about the days but the myriad of sensory experiences each brings.
Yet, the allure of the Diptyque Paris advent calendar goes beyond its aromatic treasures. It's an artwork that celebrates the elemental magic of flames, rendered in a fashion only Diptyque could master. The calendar, with its calligraphic flames and poetic inspirations, is a testament to the brand's unwavering commitment to aesthetic and olfactory excellence.
For those seeking a December marked not just by days but by moments of pure, fragrant luxury, Diptyque Paris' limited edition advent calendar is the pièce de résistance. It doesn't just promise a fragrant journey; it offers an ethereal dance with flames, one day at a time.
Check the brand's official website to learn more about it: https://www.diptyqueparis.com/en_us/p/advent-calendar-2023.html
Christian Louboutin's Festive Advent Calendar 2023: A Loubi Journey to Enchantment
All aboard, beauty aficionados! This festive season, Christian Louboutin invites you on a decadent journey, not just of days but of sensory delights, with the Loubi Express Advent Calendar. An ode to luxury, enchantment, and artistry, the calendar embodies the allure and craftsmanship for which Louboutin is world-renowned.
Steering this voyage is the beguiling Miss Loubistar, Christian Louboutin's ethereal Christmas muse, guiding passengers through a winter wonderland replete with lavish beauty treasures. As you traverse this opulent landscape, each day reveals a hand-curated gem from the Maison, ensuring the crescendo to Christmas Day is nothing short of spectacular.
From the outside, the calendar captivates with its whimsical locomotive theme. Each of the 24 exquisitely illustrated train cars, adorned in Louboutin's signature vibrant hues, holds a promise of beauty. But the enchantment truly lies within. This year, anticipate the allure of the Velvet Matte On The Go Lipstick, a festive essential that fits effortlessly into the chicest of clutches. Revel in the intoxicating scents of the Loubiworld range, each fragrance exuding the brand's trademark extravagance. And let's not forget the pièce de résistance – the brand's award-winning mascara, which has already garnered accolades at British Vogue's Beauty Awards 2023.
Christian Louboutin has always been synonymous with luxury and art, from its iconic red-soled heels to beauty products that transcend mere makeup to become objets d'art. This advent calendar reiterates that commitment with its vivid illustrations and meticulously selected contents. It's not just an advent calendar; it's a 24-day journey through the heart of Louboutin's artistic brilliance.
So, as the festive season dawns, climb aboard the Loubi Express. Let Miss Loubistar guide you, and be prepared to be transported into Christian Louboutin's world, where beauty, art, and luxury converge in a dazzling dance of festive delight. More information here:
https://eu.christianlouboutin.com/ch_en/advent-calendar-2023-rouge-louboutin-001-8435415082204.html
Clarins Advent Calendar 2023: A Radiant Countdown to Festive Beauty
As the festive season approaches, the spirit of anticipation is almost tangible. The countdown to Christmas, often associated with children's eager excitement, has taken a luxurious twist this year with Clarins' elegantly crafted Advent calendar, designed to captivate and indulge the discerning beauty enthusiast.
Valued at $406 and offering a phenomenal saving of 62%, the Clarins Advent calendar unfurls the brand's legacy in 24 treasured skincare and makeup essentials. It's a handpicked, curated journey through Clarins' iconic range that ensures each day is illuminated with a touch of radiance, culminating in a Christmas Day look that's nothing short of luminous.
From hydrating serums that quench the skin's thirst to makeup that accentuates one's natural beauty, from products that impart a subtle lift to those that firm and sculpt – each door reveals a treat that speaks of Clarins' unparalleled expertise. And the emphasis isn't just on facial skincare; with bodycare surprises also tucked away, it's a holistic approach to beauty that ensures you're pampered from head to toe.
But the magic doesn't stop at the products. True to Clarins' commitment to sustainability, the calendar's exterior boasts an eco-conscious design, adorned with plant-based ink and a water-based varnish. Crafted from cardboard sourced from responsibly managed forests, its interior compartment conscientiously integrates 90% recycled plastic, equivalent to 4.6 plastic bottles. Beauty, after all, isn't just skin deep; it's also about caring for our planet.
The benefits of this calendar are manifold – from boosting radiance to enhancing the complexion, eyes, and lips. It's a reminder of the brand's promise to deliver results, ensuring that your skin is its most radiant and rejuvenated self as you journey towards Christmas Day.
So, as you ponder the perfect gift to nestle under the tree, consider Clarins' limited-edition advent calendar, brimming with 12 or 24 surprises. The only challenge? Resisting the temptation to unveil its secrets before the first of December. After all, good things come to those who wait, especially when the wait is as splendid as this. More information here:
https://www.clarins.co.uk/festive-season/
La Mer's Atelier Advent Calendar 2023: Twelve Days of Luxe Enchantment
Elegance, luxury, and the magic of the festive season converge in La Mer's latest holiday offering: The Atelier Advent Calendar. For those who hold beauty rituals close to their heart and cherish moments of indulgence, this is not merely an advent calendar – it's an invitation to experience twelve days of unparalleled luxury.
With a total value of $720, the Atelier Advent Calendar is a luminous journey through some of La Mer's most coveted and top-rated skincare essentials. Each day reveals a miniaturized, yet potent, version of the brand's iconic treasures, culminating in a beauty regimen that promises rejuvenation and radiance.
Begin the ritual with La Mer's gentle yet efficacious Cleansing Micellar Water – a perfect prelude to the following skincare symphony. The crescendo is undoubtedly the supremely hydrating Crème de la Mer, a testament to the brand's commitment to delivering transformative skincare results.
But beyond the tangible products, an ethereal magic accompanies this calendar. It evokes the spirit of holiday enchantment, intertwining the anticipation of Christmas with the allure of the ocean's mysteries. From silky serums that glide seamlessly to nourish the deepest layers of your skin to sumptuous creams that cocoon and comfort – every door opens to reveal another chapter of La Mer's storied legacy.
Whether you're considering gifting this limited-edition masterpiece or want to treat yourself to a slice of beauty nirvana, there's no denying that The Atelier Advent Calendar is a masterclass in luxury. But, act with haste – given its limited availability, this beacon of beauty enchantment is bound to be the object of desire for many, and its secrets are waiting to be unfurled by a fortunate few.
In the beauty world, there are advent calendars, and then there is The Atelier Advent Calendar by La Mer – a distinction in luxury, a celebration of enchantment. See more here: https://www.lamer.eu/product/22153/122400/sets/the-atelier-advent-calendar
Acqua di Parma 2023 Advent Calendar: The Italian Dolce Vita
Acqua di Parma, the beacon of Italian elegance, transports you to a festive journey that is as much about tradition as it is about transcending borders. With their 2023 Advent Calendar, a part of their illustrious Holiday Collection, the brand orchestrates a symphony of good fortune inspired by charms from every corner of the world.
Envision the first shimmer of dawn on a frosty December morning, the anticipation of the unknown, and the exhilaration of discovery. Now, capture that sentiment in a single object – that's the magic of Acqua di Parma's Advent Calendar. As each day draws you closer to the heart of the holidays, you're not merely unveiling a product; you're embarking on a rich tapestry of traditions and tales, as told through iconic symbols of luck and prosperity.
Hand-crafted with meticulous detail, the calendar itself is a masterpiece. Adorned with an ensemble of global good fortune motifs – the hope-filled four-leaf clover, the protective horseshoe, the wishful goldfish, the radiant star, the prosperous pomegranate, and many more – it becomes a bridge connecting cultures. Every emblem tells a story, and in Acqua di Parma's signature style, every story is one of joy, luxury, and timeless beauty.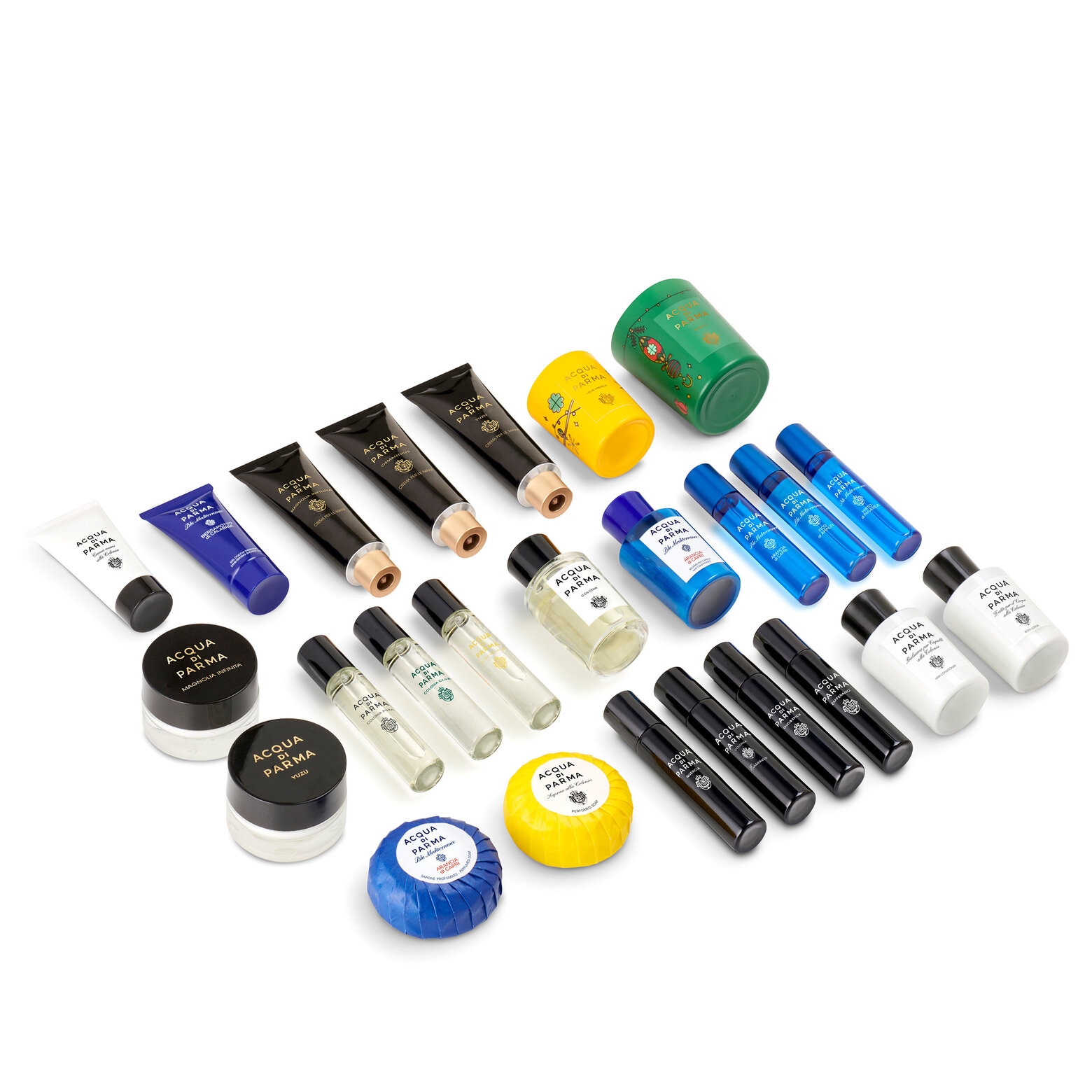 Behind each window lies a carefully chosen treasure, ranging from the citrusy allure of Colonia, the breezy notes of Blu Mediterraneo, to the opulent Signatures of the Sun and the exquisite Home Collection. Whether in full splendour or convenient travel sizes, each reveal is a fragrant reminder of the brand's century-old legacy of craftsmanship and excellence.
In a world where beauty often comes with a veneer of perfection, Acqua di Parma's Advent Calendar stands apart. It embraces the beauty in imperfections, the art in hand-made crafts, and the emotions in simple gestures. It's an invitation to celebrate a season and relish the everyday wonders that life bestows upon us.
So, as the festive season approaches, let Acqua di Parma's Advent Calendar be your compass, guiding you through a world imbued with wonder, one day, one charm, one fragrance at a time. It's not just an advent calendar; it's a global celebration of joy, luxury, and shared stories. More information here:
https://www.acquadiparma.com/en/gb/advent-calendar/ADVENTCALENDAR2023.html
Penhaligon's 2023 Advent Calendar: The Toy Chest of Scented Fantasies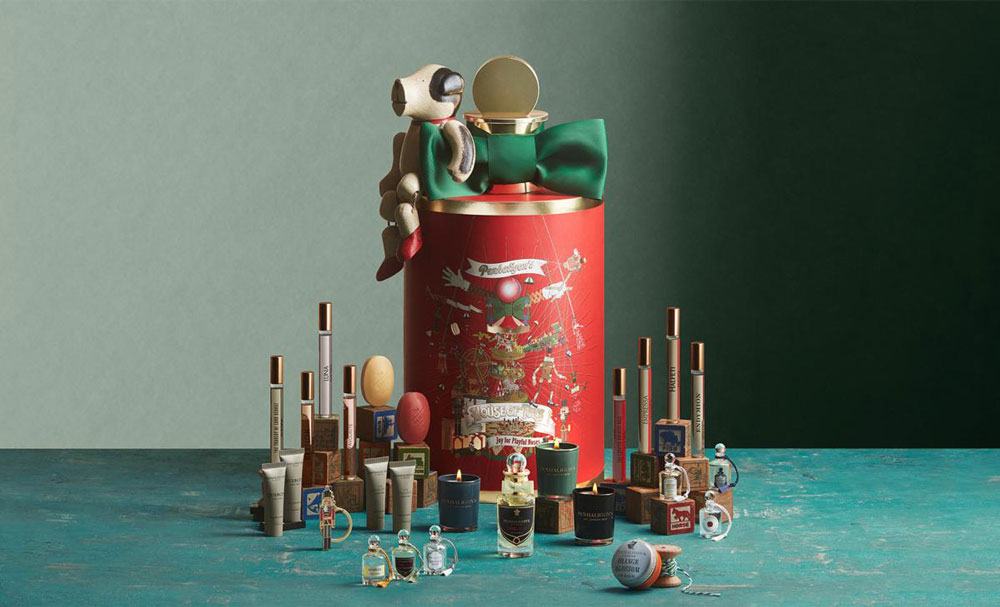 Whisking you away to the corners of your childhood memories, Penhaligon's Advent Calendar for 2023 promises a sensory delight that combines the notion of play with the sophistication of British fragrance craft. The theme, 'The Toy Chest', is both a nod to the past and a spirited leap into the future, celebrating the joys of yesteryears and the promise of scented surprises yet to be unveiled.
Every drawer you pull from this charming Toy Chest reveals a tale told in notes and accords. From the depths of the chest comes a captivating 30ml Halfeti, a fragrance that is as much a journey to exotic lands as a trip down memory lane. Reminiscent of playful afternoons and make-believe games, the scented soaps remind you of simpler times, cleansing the soul as much as they do the skin.
But what's a toy chest without its treasures? The numerous candles interspersed throughout the calendar transform your home into an olfactory playground. Each flicker of the flame brings forth stories, dreams, and nostalgia that tug at the heartstrings. It's not merely a countdown to Christmas; it's a dance of fragrances, each step choreographed to bring forth waves of emotion and floods of memories.
In a world that often prioritises the visual, Penhaligon's 2023 Advent Calendar is a testament to the power of scent. It's a call to dive nose-first into a universe where fragrances aren't just perfumes but portals to times and places, both real and imagined.
So, as you embark on this 24-day journey through 'The Toy Chest', remember, it's more than just an advent calendar. Penhaligon pledges to keep the child within you alive, to keep the spirit of playfulness aflame, and to remind you that sometimes, the most beautiful journeys are those taken by the nose. Prepare to be spellbound by the wonders that await, for with Penhaligon's, every day is a scented adventure, every fragrance a new story. More information here:
https://www.penhaligons.com/uk/en/introducing-penhaligons-advent-calendar-2023
To Conclude,
As the silvery frost of December is not far, the beauty aficionados turn their gaze to the advent calendar renaissance from ten esteemed luxury Maisons – Jo Malone, Diptyque, Christian Louboutin, Clarins, La Mer, Acqua di Parma, or Penhaligon's. Each calendar is a harbinger of the Yuletide spirit and an opulent odyssey of artisanal craftsmanship, beauty rituals, and olfactory elegance.
In the heart of winter, these advent treasures beckon the sophisticated maven to indulge in beauty and moments. This season, as we delicately unfurl each window, let us see beyond the tangible. Each petite revelation isn't merely a cosmetic delight; it's a narrative, a reminder of the beauty that lies both without and within.
Let us approach this festive period not merely as a countdown but as a conscious embrace of the artistry and romance inherent in our daily beauty routines. With every advent reveal, we're not just unveiling a product; we're rediscovering an emotion, a memory, an aspiration. As we embark on this sartorial journey towards Christmas, may we remember to cherish the moments of luxury. Here's to a December defined by both splendour and spirit. Let the couture countdown begin.
José Amorim
Information sourced by the author for luxuryactivist.com. All content is copyrighted with no reproduction rights available. Images are for illustration purposes only.