Reading Time:
3
minutes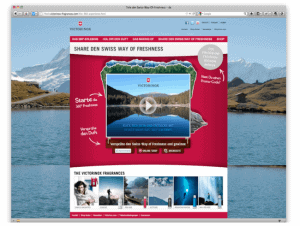 The Swiss iconic brand, Victorinox is launching this week an interesting and exciting animation around its fragrance product category. It is called 360 degrees Swiss way of Freshness. The Brand developed the first 360 degrees movie on and under water.
The goal is to invite customers to experience a ultra-freshness feeling thanks to a virtual, yet real, diving into a mountain swiss lake. The interest of this animation comes from the fact that Fragrances remain one of the hardest products to communicate with via the web. How can we share the experience of a scent online?
In our case, the fragrance brand focused on the core image of swiss fragrances: Freshness, outdoor, innovation and Brand experience. Victorinox went to a small city in the heart of Swiss Alps, called Flims where we find one of the most beautiful mountain lakes in Switzerland: the Caumasee. This lake is fed from underground sources, so the water is the purest you can find. It is located in the heart of a huge forest. You can only reach the lake by footpath or it is also possible to use a 1939 Funicular.
Victorinox worked with the creative swiss agency Co&Co and they built a creative team that brought together the performance of technology and the magic of emotions. The secret: A 5 lens camera, used mostly by the famous Google Streetview car. The challenge here was to use the camera to share an unique experience of diving in a real swiss lake.
According to Matthias Seyfang, Victorinox Fragrances CEO: "Our 360 degree video represents perfectly our philosophy of high innovation and great quality that inspired Victorinox for the last 127 years. As far as I know, never a fragrance was communicated online in such a creative way. We are very proud to share today our "Swiss Way of Freshness" concept with our Fans community that hopefully will be seduced and excited, as we are now."
The video was produced by award winning Dutch company Yellowbird and PANORAMA3000. CoundCo in Germany and Switzerland have supported the concept and realization. The promotion is run by The European Box NetworkEurope, a network of independent social media agencies.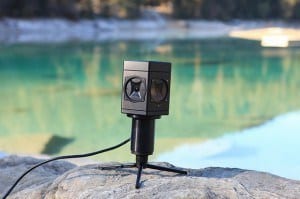 After watching the film, you can order a free Picture frame with a postcard from the lake and a fragrance sample. By doing this you also participate to win a weekend for 2 nearby the Caumasee lake in a beautiful hotel, Signina Hotel.
The brand also created a exciting making off in which we can see more about the 5 lens high-tech camera:
So, experience the intense swiss freshness of a beautiful mountain lake in the heart of the Alps : http://fresh.victorinox-fragrances.com
Refreshed?
LA